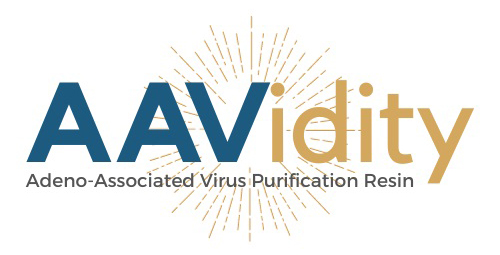 AAVidity – a new affinity resin for serotype-agnostic purification of AAVs from HEK293 and Sf9 lysates
AAVidity resin is functionalized with synthetic affinity ligands that capture AAVs of all serotypes, providing excellent binding capacity and clearance of contaminants (HCPs and hcDNA). High product yield is achieved upon mild elution conditions that safeguard the transduction activity of recovered AAVs.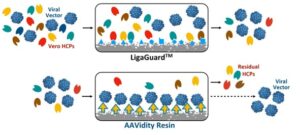 Serotype-agnostic purification achieved by ligands targeting epitopes of the virion proteins that are highly conserved across all AAV clades and clones.
Dynamic Binding Capacity (DBC10%) > 1014 vp per mL of resin granted by the unique avidity-driven AAV capture activity of our ligands.
Excellent removal of contaminants including host cell proteins (HCPs) as well as host cell and plasmid DNA (hcDNA and pDNA).
Mild elution (pH ~ 6.8) that grants excellent yield of AAVs with high transduction activity.
Safety and Affordability: our ligand design enables large-scale synthesis without relying on bacterial hosts.