LigaTrap's newest product, LigaGuard, is the solution for purifying HCP from bioprocessing for Mammalian samples, AAV, and Lentivirus.
LigaTrap Technologies' newly introduced affinity adsorbant, LigaGuard, is a proprietary ensemble of multi-modal ligands which is capable of capturing host cell proteins (HCPs) and DNA selectively in flow-through (continuous) mode. The nature of our resin allows desired bio-products to progress, unbound, with a high purity and recovery. The removal of HR-HCPs that persist through the purification pipeline and commercial resins may struggle to remove promotes the purity, stability, effectiveness, and safety of products.
LigaGuard resin can be utilized for the purification of both protein (i.e.monoclonal antibodies and growth factors) and viral products (i.e lentiviruses, adenoassociated viruses, and viral vaccines). Our LigaGuard resin targets a broad range of common HCP contaminants in bio-processing including: Chinese Hamster Ovary (CHO) HCPs, Hamster Embryonic Kidney (HEK293) HCPs, Madin-Darby Canine Kidney (MDCK) HCPs, and Vero Cells HCPs, as well as the DNA of each target.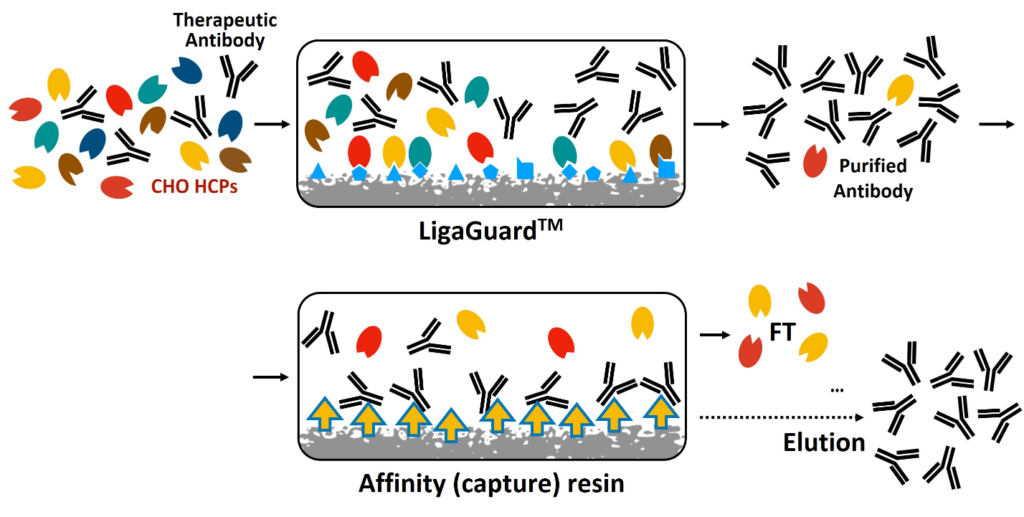 LigaGuard Host Cell Protein (HCP) Purification Resin
De-Risk Biomanufacturing by removing HR- HCPs that persist through the purification pipeline and commercial resins may struggle to remove, thus promoting the purity, stability, and safety of special mAb products.
Increase Process Flexibility and Robustness by widening the space of operational parameters that afford high mAb yield and purity, and minimizing the impact of variability of HCP titer and composition in the harvests.
Reduce Process Footprint and Costs by enabling an agile mAb polishing sequence, fully operating in flow-through mode.
Enable ProA-Free Downstream Processes by affording a 30-to-125-fold reduction of HCPs and hcDNA.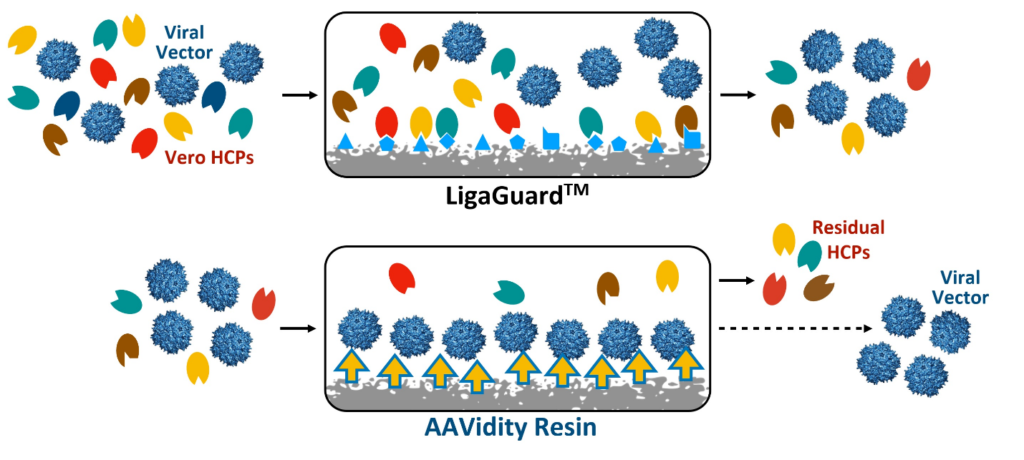 LigaGuard Virus Purification
Facilitate Purification by capturing HCPs, hcDNA, and pDNA, while preventing access of supra-molecular products – such as viral vectors for gene therapy, oncolytic viruses, and viral vaccines.
Facilitate Capture by removing HCPs, thus lowering the binding competition at the capture step and enabling the use of mild-affinity ligands.
Ensure Product Safety by removing HCPs and vector fragments that can compromise virus infectivity.
Part #
Name
Amount
Price
LT-LG1-1x1mL-1

LigaTrap LigaGuard 1 ml Packed Column

1 mL
$300.00
Add to Cart
LT-LG1-1x5mL-1

LigaTrap LigaGuard 5ml Packed Column

5 mL
$750.00
Add to Cart
Product Descriptions
LigaGuard resin is currently offered in 1mL or 5mL Prepacked Column formats to support bioprocess research and development efforts at various scales.
Parameter
LigaGuard Prepacked Column Specifications
Binding Targets
CHO HCPs, HEK293 HCPs, MDCK HCPs, Vero cells HCPs, and DNA of each target
Equilibrium Capacity (Qmax)
≥ 25 mg of HCPs per mL of resin
Dynamic Binding Capacity (DBC10%)
(RT: 1-2 min) ≥ 15 mg of HCPs per mL of resin

(RT: 5 min)  ≥ 20 mg of HCPs per mL of resin

Column Volume
1 mL or 5mL
Column Dimensions
1 mL Column: 6.7 x 30 mm

5 mL Column: 14.6 x 30 mm

Recommended Flow Rates
1 mL Column: 0.2 – 1 mL/min

5 mL Column: 1 – 5 mL/min

Pressure Limit
For both 1 mL and 5 mL columns, do not exceed a maximum pressure of 0.4 MPa (4 Bar)
Storage
20% v/v ethanol in water, store at 4°C